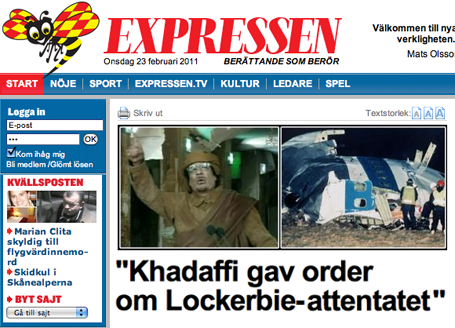 Muammar Gaddafi himself ordered the Lockerbie bombing. It was revealed by Libya's minister of justice, Mustafa Mohamed Abud Al Jeleil, in an exclusive interview by the Swedish newspaper Expressen. "I have evidence that Gaddafi ordered the Lockerbie", said Al Jeleil to Expressen.se.
270 people died December 21, 1988 when Pan Am Flight 103 exploded in the air, including the Swedish UN diplomat, Bernt Carlsson. A massive police investigation which include Scotland Yard and the FBI concluded that a bomb was placed on the airplane by two Libyan nationals on behalf of the Libyan secret service. ?Express.se reveal that the order came directly from Muammar Gaddafi.
Kassem Hamade met Mustafa Mohamed Abud Al Jeleil in the local parliament in a major city.
In 1992 the United Nations targeted economic sanctions against Libya because Gaddafi did not cooperate to catch the perpetrators. ?Not until April 1999 the two alleged perpetrators went to trial in the Netherlands. ?One of the two Libyans, Abdelbaset Ali al-Megrahi, was sentenced to life in imprisonment.
Abdelbaset Ali al-Megrahi was released in 2009 on humanitarian grounds because he was suffering from prostate cancer. Gaddafi must have worked hard for Megrahi's release.
– He did everything in his power to get Megrahi back from Scotland, says Mustafa Mohamed Abud Al Jeleil to Expressen.se.
Mustafa Mohamed Abud Al Jeleil notes:
– He (Gaddafi) gave orders to Megrahi to do it. ?Earlier this week, reported the British newspaper The Sun that Megrahi is still alive, but that his health is deteriorating.
Source: Expressen.se/gadafi-ordered-lockerbie-bombing
The text was translated by Google Translate and then edited by Torbjorn Sassersson